Building and sustaining action for nutrition in India: A roadmap for impact
Co-chairs: Lawrence Haddad, IFPRI and Purnima Menon, IFPRI-India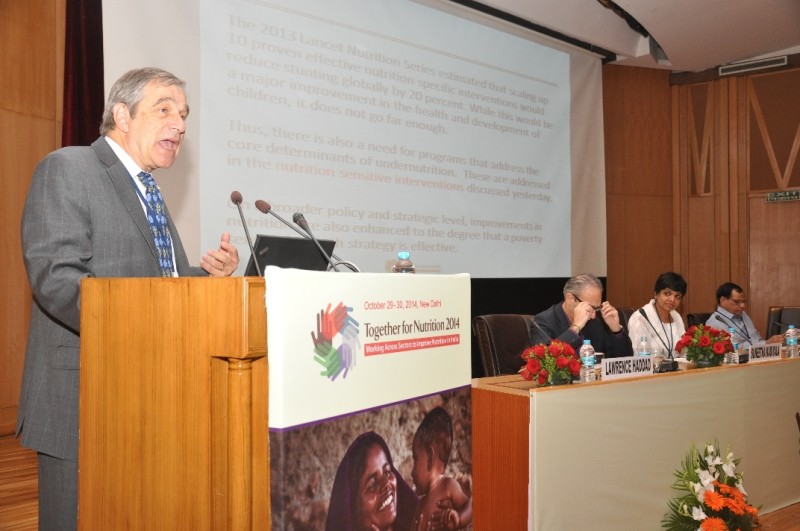 Ensuring a continuum of preventive and curative actions for child nutrition: what does biology tell us?
Vinod Paul, All India Institute of Medical Sciences
Addressing the underlying social causes of nutrition: insights for India
Harold Alderman, IFPRI
Improving diet quality and nutrition in India: What role for agriculture and the food system?
Mahendra Dev, Indira Gandhi Institute of Development Research (video)
Innovative partnerships for nutrition
Chair: John McDermott, CGIAR Research Program on Agriculture, Health and Nutrition and Hari Menon, Bill & Melinda Gates Foundation-India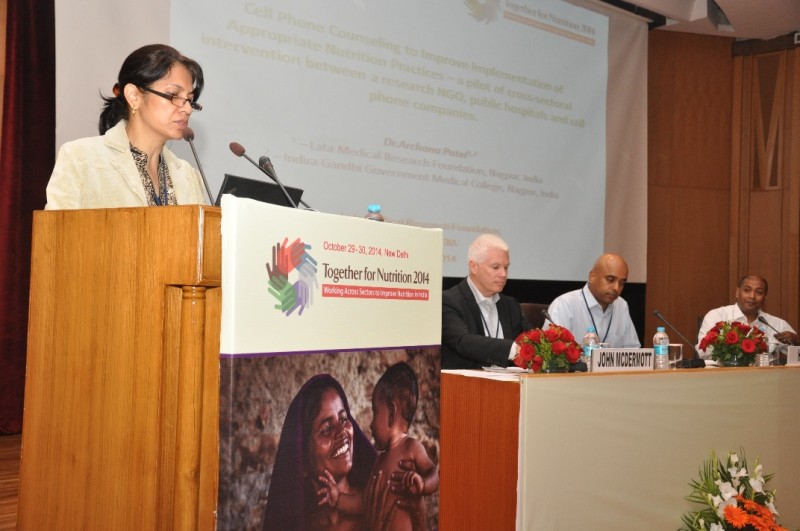 Cell phone counseling to improve implementation of appropriate nutrition practices: a pilot of cross-sectoral intervention among a research NGO, public hospitals, and cell phone companies
Archana Patel, Lata Medical Research Foundation and Indira Gandhi Government Medical College
'Nutrimix Community +': Co-creating sustainable value chain programs for nutrition improvement and livelihood generation
Anjan Ghosh, Indian Institute of Management Calcutta
Strategic partnerships to strengthen the social business model
Deepti Gulati, Global Alliance for Improved Nutrition-India
Modalities for strengthening nutrition actions at the community level: A focus on women's groups
Co-chairs:  Audrey Prost, University College of London and Anirban Ghose, PRADAN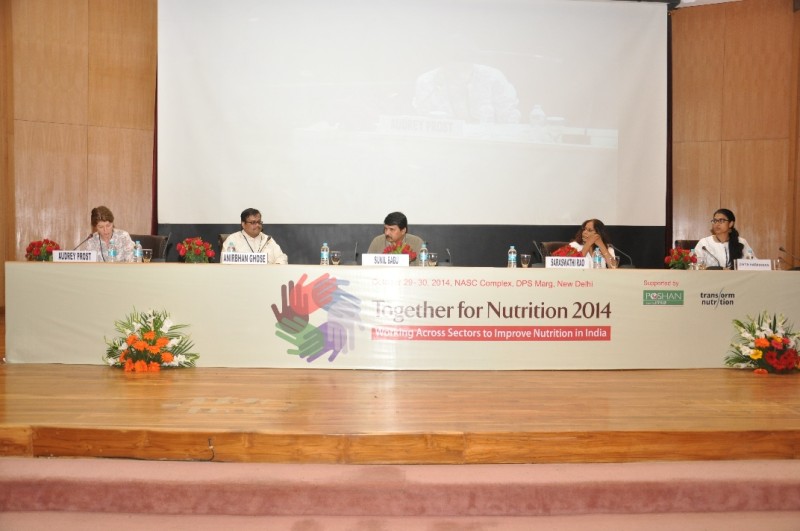 Integrating nutrition and health interventions into women's self-help groups by Bihar rural livelihoods project and other partners
Sunil Babu, CARE-India
Leveraging the power of women's groups and financial services to improve nutritional knowledge and high impact behaviors for improved child and maternal nutrition
Saraswathi Rao, Freedom from Hunger-India
Collaboration of ICDS and self-help groups to decentralize supplementary feeding at Anganwadi centres
Sunil Babu, CARE-India
Community-based nutrition program implemented through women's social platforms: the Rajiv Gandhi Mahila Vikas Pariyojana, RGMVP-GAIN partnership
Divya Hariharan, Rajiv Gandhi Mahila Vikas Pariyojana
Other modalities for implementing cross-sectoral actions: A summary of community-level posters
Audrey Prost, University College of London; Anirban Ghose, PRADAN
Bringing together actors in women and child development and health and family welfare to deliver nutrition-specific interventions to the first 1000 days: What have we learnt?
Co-chairs: Rajani Ved, NHSRC and Adarsh Sharma, ISSNIP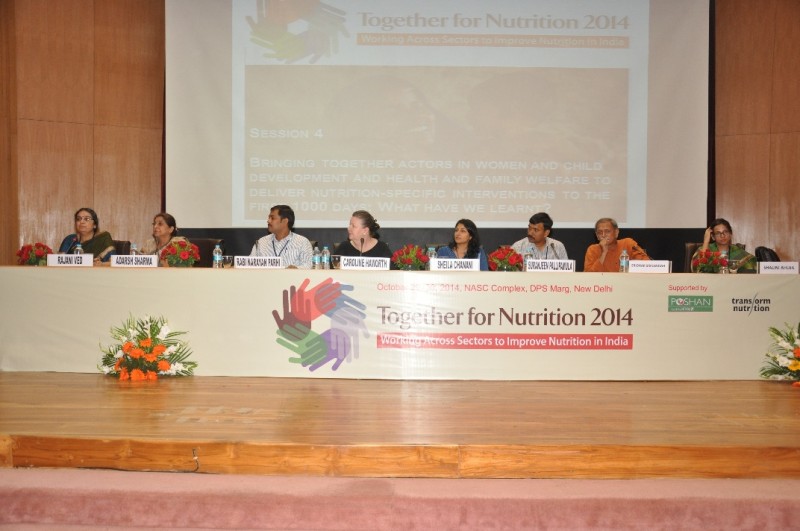 Why does intersectoral convergence between health and ICDS matter for delivery of nutrition-specific interventions in India?
Rasmi Avula, IFPRI-India
PUSTIKAR DIWAS: Convergent action for the reduction of child undernutrition in Odisha
Rabi Narayan Parhi, IPE Global Technical & Management Support Team
Implementation of community-based management of acute malnutrition program in Dharavi, Mumbai
Sheila Chanani, Society for Nutrition, Education & Health Action
The health sub-centre as a platform for coordinated capacity building and supportive supervision of health and ICDS front line workers
Sridhar Srikantiah, CARE-India
What policy measures are needed to make existing intersectoral convergence among DWCD, DoHFW, and RDD more effective for improved maternal, neonatal and child nutrition in Odisha
Caroline Haworth, Options-Odisha
Opportunities and challenges in the continuum of care in nutrition rehabilitation: experiences from Madhya Pradesh and Jharkhand
Rajib Dasgupta, Centre for Social Medicine & Community Health, Jawaharlal Nehru University
Policy analysis for intersectoral convergence in growth promotion at Jharkhand and India
Suranjeen Pallipamula, Public Health Resource Network
Perspectives on the Role of Nutrition-Sensitive Sectors
Co-chairs:  Harold Alderman, IFPRI and Suneetha Kadiyala, LSHTM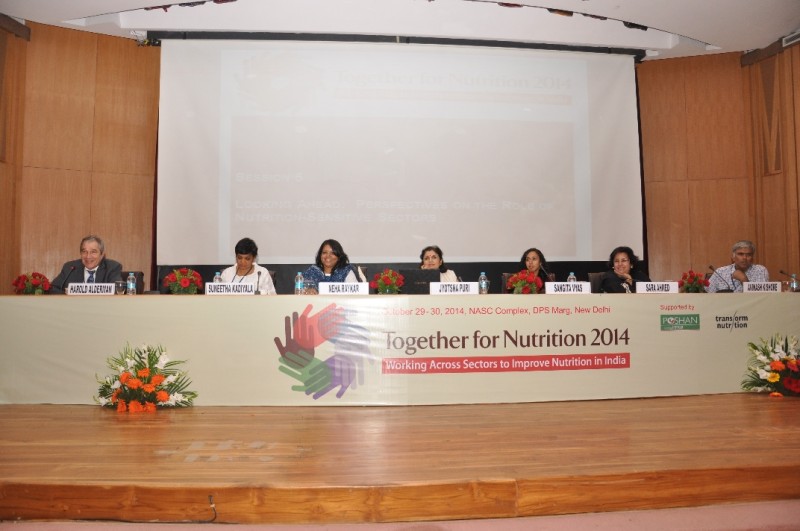 Investments in women and girls
Neha Raykar, Public Health Foundation of India
Social protection: the role of the National Rural Employment Guarantee Act (NREGA)
Jyotsna Puri, 3iE-International Initiative for Impact Evaluation
Water, sanitation, and hygiene
Sangita Vyas, Research Institute for Compassionate Economics
Food security: the role of the public distribution system
Avinash Kishore, IFPRI-India
Agriculture and its potential contributions
Sara Ahmed, International Development Research Centre
Closing Remarks & Acknowledgments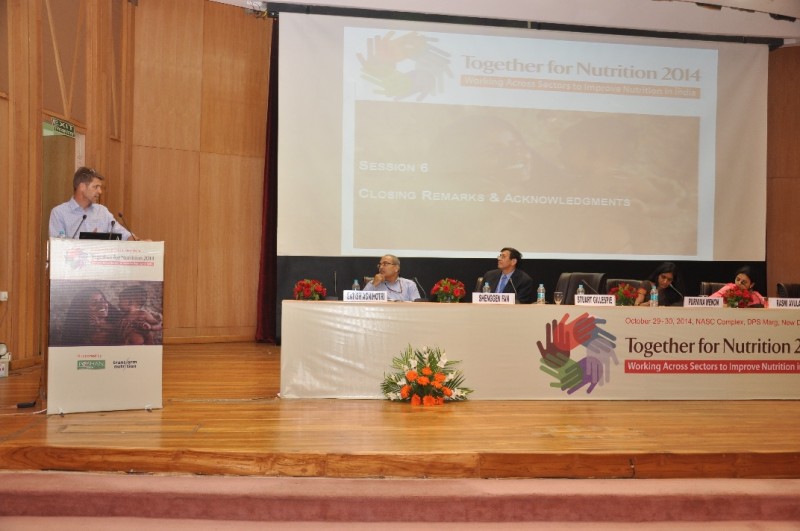 Satish Agnihotri, Secretary (Co-ordination), Cabinet Secretariat, Government of India
Shenggen Fan, Director General, IFPRI
Stuart Gillespie, IFPRI
Purnima Menon, IFPRI-India
DAY 2 POSTERS-
Modalities for strengthening nutrition actions at the community level
Implementing nutrition rehabilitation centers in hard to reach areas of Chhattisgarh: experiences and lessons
Abner Daniel, UNICEF
Community action on malnutrition
Antara Dhargupta, Child in Need Institute-India
Mainstreaming nutrition security for Dalits and other excluded populations into the National Agenda for Action
Ashok Bharti, National Confederation of Dalit Organizations
Public partnership for better health and nutrition outcomes
Deebjeet Sarangi, Living Farms
Multisectoral initiative to address child nutrition residing in remote and tribal, conflict affected zones of Odisha
Nayan Chakravarty, Indian Institute of Public Health-Bhubaneswar
Positive outcomes from a comprehensive programme for community based management of malnutrition in rural India
Nidhi Dhingra, Public Health Resource Network
Community Hunger Fighters Programme
Rama Chandra Tosh, MS Swaminathan Research Foundation
Panchayat led convergent action on nutrition through community managed nutrition and daycare centres: Fulwari Scheme of Chhattisgarh
Samir Garg, State Health Resource Centre
Supporting city administrators in assessing urban health inequities across wards in absence of quantitative indicators and preparing multi-sectoral plans: An adaptation of WHO Urban HEART
Siddhart Agarwal, Urban Health Resource Center
Addressing undernutrition through multisectoral approach in remote villages of Jharkhand
Sweta Banerjee, Welhungerhilfe
Innovative Partnerships for Nutrition
Integration in practice through effective intersectoral convergence: The example of SuPOSHAN program of the Government of Madhya Pradesh
Shubhada Kanani, FHI 360
Bringing together WCD and Health to deliver critical essential interventions
Buniyaad: A social crusade for promoting optimal IYCF behaviors through partnerships
Abhishek Singh, Aga Khan Development Network
Partnership with milk cooperatives improves infant feeding practices in tribal communities
Kavita Sharma, UNICEF
CLICK HERE for more information on Day 2 chairs, presenters and speakers.